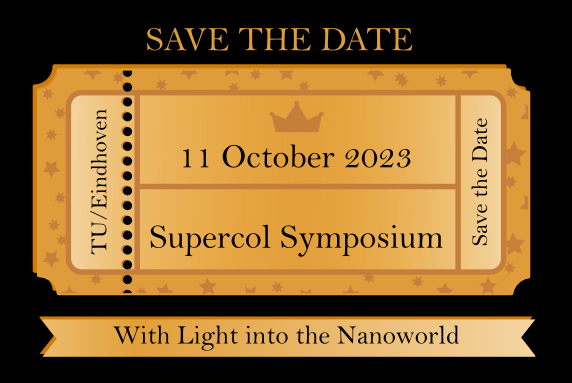 Save the date – Supercol Symposium – With Light into the Nanoworld
Confirmed speakers
Jianfang Wang
  –
More info
– Plasmonic Nanocrystals
Susana Rocha – 
More info
 –
Imaging the forces driving cellular behaviour: from material characterization to 3D cell models
Rodolphe Marie
–
More info
 – Imaging soft matter particles in a nanofluidic trap
Sophie Marbach
–
More info
–  The Nanocaterpillar's Random Walk: or how to move precisely with random sticky feet?
Frank Scheffold
–
More info
– Unraveling Responsive Microgel Characteristics and Functionalities through Super-Resolution Microscopy
Signup opens soon, stay tuned!
Over the last four years, the Supercol Project brought together 15 PhD candidates, 8 Institutes and research institutes, and 9 industrial core partners from all around the world into this European Marie Sklowdowska Curie ITN project.
Celebrating the completion of this Supercol ITN project we invited scholars in the field of nanotechnology and single molecule optics to share the latest status of their research in the final Supercol Symposium – With Light into the Nanoworld.
Details
October 11th 2023
Eindhoven University of Technology
10.00 – 18.00
Including lunch
Free admission